CLEAR is the most simple, but the highest qualities vermilion ink pad of us.
This ink that there are a reputation and results in the quality is oily pigments with high safety, drying at less than three seconds after stamp, no smell. It is decompose neither the ABS resin nor rubber.

The safety data by Japanese inspection institute is available.
All the processes are made in Japan.

There are 4 sizes.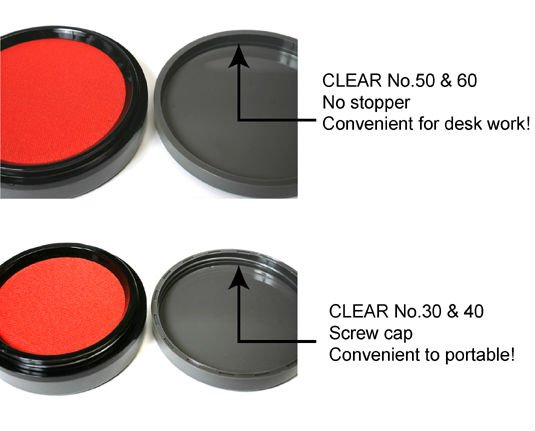 【NAME】
NIKKO CLEAR (super quick dry)
【SIZE / PRICE】
#30
#40
#50
#60

#30

outline:φ40×20mm 
face of inkpad:φ32mm


#40

outline:φ56×20mm 


face of inkpad

:φ42mm


#50

outline:φ65×20mm 


face of inkpad

:φ55mm


#60

outline:φ79×20mm 


face of inkpad

:φ65mm

#30 JPY
¥650(TAX OUT)
#40 JPY ¥800(TAX OUT) #50 JPY
¥1,000(TAX OUT)
#60 JPY
¥1,200(TAX OUT)

【MATERIAL】
Recycled PC70%, Oil pigment
 Supplement ink here! >>